To most people, the art world appears as an exclusive clique, where one cannot simply enjoy a piece of work, one must exhaustively explain why, using the longest words available; a world where one must understand what the direct expressivity of artistic material is; a world where a seemingly discarded piece of everyday junk becomes art when placed on a plinth or a gallery floor. It is not a welcoming world and one must pass stringent entrance exams to gain admittance, or else as a visitor carry the fear of possible public mockery.
This preconception of the art world is one that appears to have gathered strength over the past century as art, or at least its cutting edge, has moved steadily away from strictly representational art.
Rain, Steam and Speed – The Great Western Railway
Oil on canvas, 1844, JMW Turner
Bequest to the National Gallery, London
Through the history of art, paintings have been almost always representational, meaning that their subjects were of something identifiable – a flower, a nude, a landscape and so on. While the more cunning artists would at times bury meanings within their paintings, for the mass of viewers it was quite clear what the painting was of.
In the nineteenth century, when artists such as Joseph Mallord William Turner and the French Impressionists stepped away from strict representation, a degree of explanation was needed to educate viewers to a whole new way of not just painting, but of looking at the world. In the twentieth century, when representational art was overtaken by non-representational art, the radical ideas of the Impressionists were advanced ever more radically. In this new and non-representational art, there was no longer a clearly defined subject and so longer explanations were required. Or perhaps the artists, curators and other full-time denizens of the art world simply felt them necessary, in order to justify themselves.
Over the course of the previous century, those explanations became longer and longer. With time, art moved on again, from the non-representational with an explanation to, more or less, simply the explanation. This two-century move from what once may have been perceived as little more than a pretty picture, to something with almost no aesthetic appeal and a long explanation, has served to turn art into an intellectual pursuit. As such, its potential mass appeal has been considerably lessened. This may be why the popularity of artists such as Claude Monet and Vincent Van Gogh continues, since arguably they were among the last cutting edge artists to paint more or less representationally.
My bed
Mattress, pillows, linens, objcets
© 1998 Tracey Emin / Saatchi Gallery
In the first decade of the twenty-first century, as western affluence rose, so to did the disconnection between art and the public. Most people's experience of contemporary art became little more than reading in disbelief an article about the latest Turner Prize winner, or else about the escapades of a previous winners-turned celebratory millionaire.
Yet in the past few years, western affluence has been in a steady decline. This has helped reveal that many other institutions, most notably politics, banking and the media, seem to be reaching a similarly great point of disconnection with the public. For these institutions change has become not just something to be hoped for but something that would seemingly have become unavoidable. In the world of art, change appears already to be underway.
As the traditional methods for the dissemination of knowledge about art have lost either their credibility or their funding, and as with so much of our lives, the internet has taken over. Here is a quiet revolution, where much of the media and countless galleries who continue to peddle artistic alienation are being left for dead.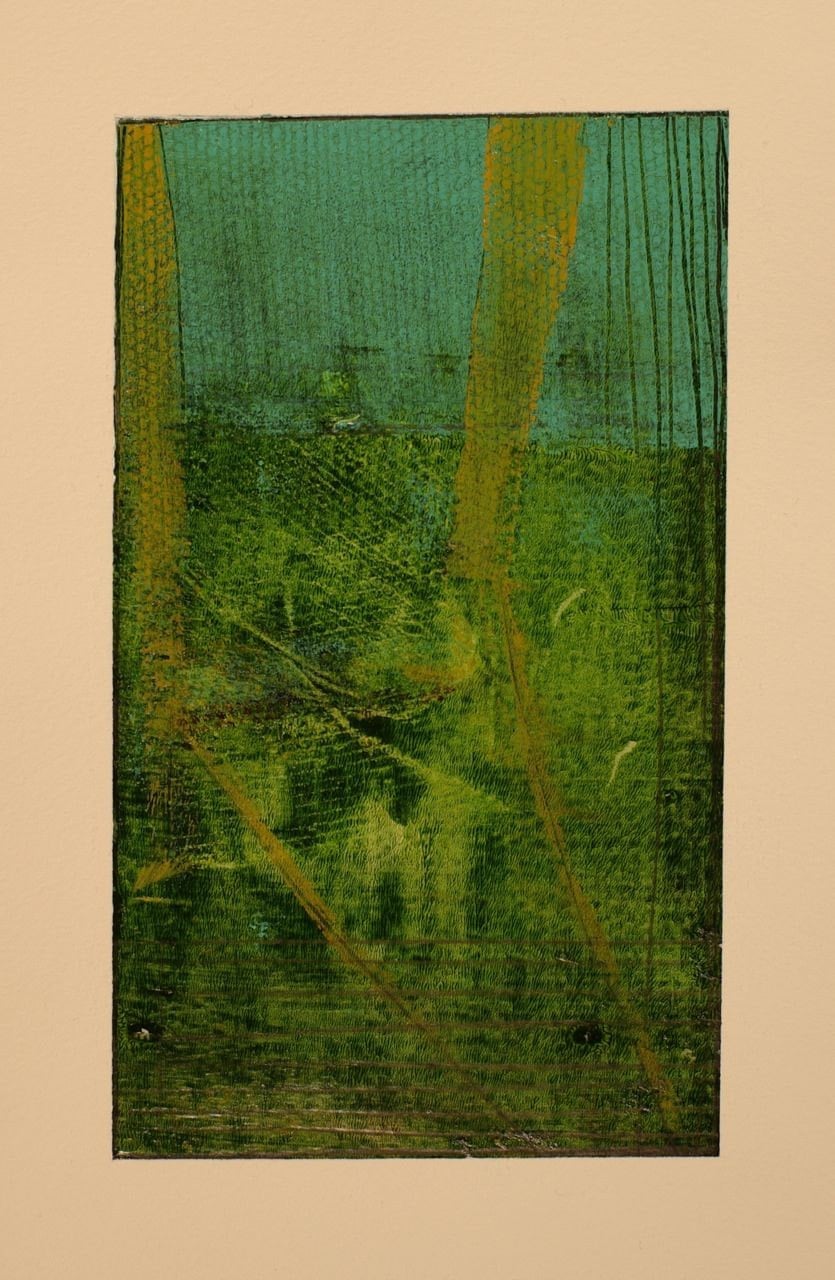 Dissolution chemistry
Mixed media on paper
© 2009 Megan Chapman
Through social media sites and online market places, the barriers that many saw between themselves and art are being pierced. So to in the real world, friendly faces are replacing stern and consequently, more and more people are becoming aware of the value of having art in their lives. It is a realisation that I experienced a few years ago, when I bought my first piece of art. I can vividly recall the experience.
I saw a painting I liked in an Etsy store, made by someone I knew only slightly (then) through a social media site. I liked it and realised that since it was a small paper piece, I could afford to buy it. This simple access to original art was a revelation. I saw how easy it was to own art and quite possibly always had been. For the life of me, I could not understand why I had never bought any before. So it was that with one or two mouse clicks, I became the owner of a piece of original art. In the time since then, I have bought (and traded) several more pieces of art and now have a collection that includes the work of more than ten artists. Buying art, I now realise, is like buying anything else. There is no great drama to it, no need for endless pondering or justification. If I see a piece that I like, I can simply buy it, or else negotiate payments or a trade. It is simple knowledge that I wish I had possessed for so much longer.
While most of these pieces in my collection are small, they are indistinguishably real and original art and they are on my walls. To sit among them is an indescribably pleasant feeling. I know each of the artists who made the work and so feel a personal connection to the pieces. I also feel that here, finally, is something permanent in my life, something that will with luck out last me and that perhaps some future generation will hold and enjoy and know that it was part of my life.
Uncharted territory
Mixed media on panel
© 2012 Megan Chapman
& Stewart Bremner
Paintings may still seem to many an unaffordable luxury, something only for those in the know. Happily this is an attitude that is changing. Although few of us might have the affluence we once did, we are now making our purchases armed with more knowledge and eager to shop ethically. Maybe now, rather than considering the next electronic gadget from a multinational corporation, a corporation that may well be both eroding your rights and employing semi-slaves, it is time to buy a painting from a real, live artist, an artist who will almost certainly be grateful because you have bought them more time to be an artist.